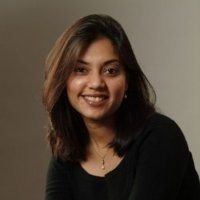 Charu Mahajan
Partner, IBM Garage & Corporate Ventures, and Sector Leader

IBM CONSULTING
Charu is a Partner and ASEAN leader for IBM Garage, where she helps companies accelerate their digital transformation journeys, drive innovation, and culture transformation with a prescriptive approach built on design thinking, lean agile techniques applied at scale, that deliver business value at start-up speeds.
Charu manages IBM's corporate venture capital program in ASEAN, leading investments in highly strategic companies with interests and ambition aligned to IBM's growth vision. Her areas of focus are hybrid cloud, product and platform engineering, and sustainability.
She also leads the IBM Consulting practice for Consumer Goods, Retail, Travel and Transport sectors in the region and has the privilege of working with top clients ranging from large global MNCs, to family-run businesses, mid-market companies, and digital unicorns across APAC.
With 22+ years of end-to-end strategic consulting experience globally, she works with the C-suite and Boards of leading companies to address their most pressing strategic challenges – accelerated digital transformation of businesses, optimization of existing operating models through technology and data, re-engineering of core business processes, and building resilient skills and technology capabilities to drive new business models. She has helped enable notable improvements in her clients' long-term financial performance including top-line and profitability growth, and sustained increase in enterprise innovation, productivity, and agility in rapidly changing APAC markets.
Charu actively contributes to the local development of technology capabilities, talent and start-ups in APAC. She is the Founding Member and Vice President of the Women in Tech Chapter and Senior ExCo Member of the IoT Chapter of the Singapore Computer Society. She often speaks at industry events, and advises Economic Councils in ASEAN on digital and technology trends. She also mentors and invests in early-stage start-ups and serves as guest-faculty at leading graduate schools.
She is passionate about the role of women at leadership and board levels and is committed to accelerating the presence of women in leadership roles in STEM industries. Charu chairs IBM Consulting's D&I Council in APAC. The Peak Magazine recently named Charu as a Next Generation Woman Leader in its 2021 Power List. She was also part of the Conversations on Singapore Women's Development initiative run by the Singapore Government.
Charu is also the founder and owner of a successful online luxury ecommerce platform and is deeply interested in South Asian art history.